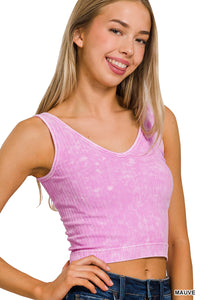 Two Way Neckline Washed Ribbed Tank Top (Mauve)
Regular price $23.99 Sale
Are you stuck in a rut with monotonous tank top designs? Introducing our Dual Neckline Washed Ribbed Cropped Tank Top - the game changer you've been waiting for!
This isn't just any tank top; it's a sartorial sensation. Its ribbed fabric texture sets it apart, creating an interesting tactile appeal. The washed effect infuses it with an effortlessly cool, vintage flair. Best of all, its unique design lets you flaunt it two ways: as a daring V-neck or a classic square neck. Paired with high-waisted attire, it's the epitome of chic.
But wait, there's more. This top isn't just about looks; it promises unmatched comfort too. Perfect for a day out, a night in, or anything in between, it's bound to keep you at the forefront of fashion.
Fabric composition ensures a luxurious feel and stretch: 90% nylon and 10% spandex. Get ready to redefine style with this must-have addition to your wardrobe!
Fabric 90% nylon 10% spandex