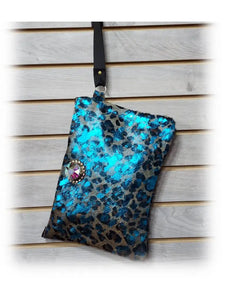 Blue Metallic Cheetah Hair on Hide Bag
Regular price $68.00 Sale
Introducing the versatile Blue Metallic Cheetah Hair on Hide Small Handbag and Makeup Bag. This multi-purpose accessory effortlessly transitions between being a fashionable handbag and a functional makeup bag, offering flexibility for various occasions.
Crafted from luxurious hair on hide, this bag features a captivating blue metallic cheetah print pattern that adds a touch of glamour to any ensemble. The metallic accents bring a shimmering effect, elevating its overall appeal.
With its compact yet spacious design, this bag can serve as a stylish handbag for carrying your daily essentials, such as your phone, wallet, keys, and more. The convenient hand strap allows for easy and comfortable carrying, adding a chic touch to your look.
Alternatively, when you need to organize your makeup collection, this bag seamlessly transforms into a functional makeup bag. It provides ample space to store your cosmetics, brushes, and beauty essentials, ensuring everything stays organized and easily accessible.
Whether you're heading out for a night on the town, running errands, or traveling, this Blue Metallic Cheetah Hair on Hide bag offers versatility and style. Switch effortlessly between using it as a small handbag or a makeup bag, adapting to your needs with ease and sophistication.