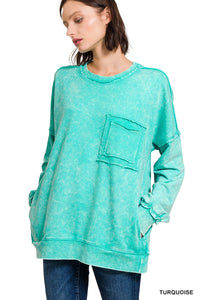 French Terry Acid Wash Pullover (Turquoise)
Regular price $34.95 Sale
Step out in style and make a bold statement with our French Terry Acid Wash Pullover. Meticulously designed with raw edges and front pockets, this piece is both functional and fashionable.
Features:
Front Pockets: Convenient storage for essentials or a cozy spot for your hands.
Double Back Seam: A design element that adds an extra touch of style and durability.
Back Patch: A tasteful addition that elevates the overall aesthetic.
Acid Wash Finish: The distinctive acid wash technique ensures that each piece has a unique finish, making you stand out in any crowd.
Specifications:
Material: French Terry, known for its comfort and breathability.
Total Body Length: 27 1/4 inches.
Bust Measurement: 47 inches approx. (measured from a size Small).
Note: As each item undergoes a unique acid wash process, expect variations in color and finishing. This ensures that no two pieces are exactly the same, making your pullover truly one-of-a-kind.
Experience the perfect blend of style, comfort, and individuality with our French Terry Acid Wash Pullover. Claim your unique piece today!