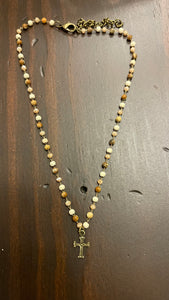 Cross Stone Choker (Natural)
Regular price $23.95 Sale
Adorn your neckline with the exquisite Cross and Natural Stone Bead Choker. This captivating choker necklace combines the timeless allure of a cross pendant with the raw beauty of natural stone beads, creating a unique and stunning accessory.
The centerpiece of this choker is a delicate cross pendant, symbolizing faith and spirituality. Surrounding the cross are natural stone beads, each showcasing its own distinctive colors, patterns, and textures. These natural stones bring an earthy and organic aesthetic to the choker, adding a touch of natural elegance to your look.
Crafted with meticulous attention to detail, this choker is made with high-quality materials to ensure durability and comfort. The adjustable chain allows for a customizable fit, ensuring the choker rests comfortably on your neck.
Perfect for both casual and dressed-up occasions, this choker adds a touch of individuality and charm to any outfit. Whether you want to elevate your everyday style or make a statement at a special event, the Cross and Natural Stone Bead Choker effortlessly complements your ensemble.