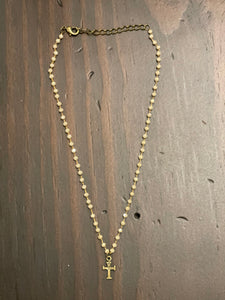 Cross Crystal Choker (Champagne)
Regular price $19.95 Sale
This stunning choker necklace is designed to add a touch of elegance and sparkle to your outfit.
Crafted with intricate detail, this choker features a delicate cross pendant adorned with shimmering champagne-colored crystal beads. The combination of the cross symbol and the sparkling crystals creates a captivating and stylish look.
Made with high-quality materials, the choker offers both durability and comfort. The adjustable chain allows you to customize the fit according to your preference, ensuring a comfortable and secure wear.
Perfect for special occasions, evening events, or to elevate your everyday style, the Cross and Crystal Bead Choker in Champagne is a versatile accessory that complements a wide range of outfits. Pair it with a formal gown for a sophisticated touch or wear it to add a touch of glamour to a casual ensemble.
Make a statement with this eye-catching piece of jewelry that combines the timeless symbolism of the cross with the shimmering beauty of crystal beads. The Cross and Crystal Bead Choker in Champagne is a must-have accessory for those seeking to add elegance and sparkle to their look.