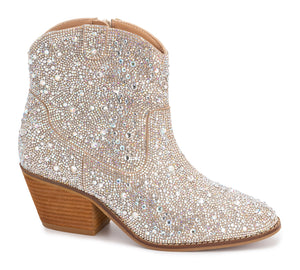 Corkys Shine Bright Rhinestone Ankle Boot
Regular price $129.99 Sale
Kick Up Some Sparkles with Corkys Shine Bright Rhinestone Ankle Boot!
Ready to stomp, sparkle, and steal the show? Buckle up, 'cause the Corkys Shine Bright Rhinestone Ankle Boot is here to skyrocket your glam game to dazzling new heights!
Imagine strutting your stuff and leaving a trail of enchanting, iridescent sparkles with every step! Our ankle boots are smothered in the cutest rhinestones, turning every pavement into your personal runway.
Denim day? Dress night? No worries! These beauties will light up literally ANY outfit, making you the glittering star of any and every event.
Walking on Clouds:
Side Zipper: Slide in and step out in a breeze - easy peasy!
Almond Toe: Classy and comfy, giving your toes a lil' room to wiggle!
Medium Width: Hug those feet with the perfect snug and comfort!
Cushioned Insole: Like walking on tiny, soft clouds.
2.5" Heel: Stand tall but keep it comfy and sturdy!
True to Size: No guesswork needed - they fit like a dream!
Grab 'Em Before They're Gone! These sparkling sensations are shimmering on our shelves both in-store and online. But hurry - a boot this brilliant won't wait around for long!
Get ready to blaze a trail of glitter wherever life takes you. Let's go, sparkle squad!